Hearts...The story came from true LOVE for my family with moving to the dream land La La Land.....We moved there with my husband and our little girl Staffy called Buddy. I have loved art and to create things all my life, but I didn't know I loved painting  so much. When we moved to LA I had the urge to create, to inspire, to believe, to feel. I feel free when I do art. So I decided to portray this in my paintings. Every painting is a story for itself and they all describe love, belief, dream, hope, dance. I believe in hearts and they are my destiny.
After living in La la land now we have moved to London because of work. We always loved animals and we do even more so because of our little girl and we can see so many more animals suffering, so we want to help them.
We decided that each painting you guys buy will go into ASSISTANCE DOGS INTERNATIONAL - dogs trained as guide, hearing, service.
WWW.SLO-CANIS.NET
 PLEASE HELP AND SUPPORT THIS CAUSE !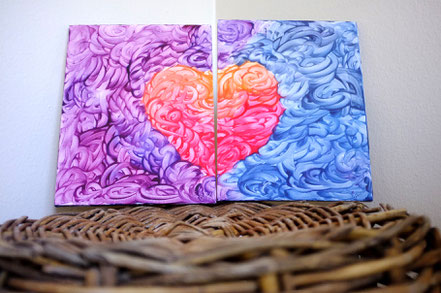 ---
---
Enjoyed this article? Follow me on 
---